Seasonal flowers, fresh and beautiful, that blossom in Cyprus, anyone of your delicate choice, in any color and kind, could be found and offered to you to decorate your special day, your wedding day. Knowing that for your wedding day you will need flower arrangements and decoration set up, for the ceremony place -the church or venue- the place where your guests would be welcomed for beginning drinks and light food, and last at the lunch or dinner and the dance hall, we made a list from where you can choose either the partial or the full package.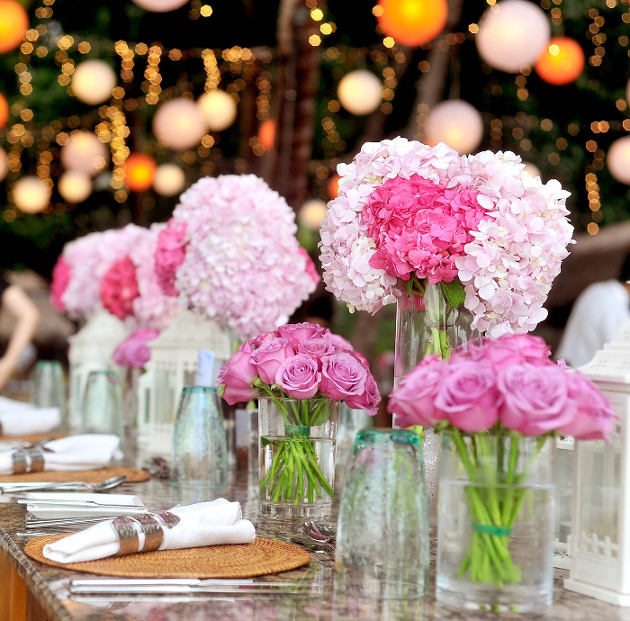 ○ Bridal bouquet

○ Groom flower pin

○ Corsages for the bridesmaids

○ Boutonnieres for the best men

○ Baskets with flowers for the flower girls

○ Flower garland for the entrance of the church/ venue

○ Vases or synthesis of flowers for the chairs or as stands at the church or the venue and the dinner place

○ Lanterns with candles

○ Other decorations for the reception venue, lunch or dinner table
Specialist florists, known and found by us, will be at your disposal to choose together from a variety of options your preferred ones. You may recommend your own florist. We, on the other hand, can also recommend you synthesis of flowers, as well as table arrangements, from the samples we have from previous weddings or from special books and magazines.



If your venue is at the beach, with the sea in front, you would maybe like to choose flowers that match this oneiric scenery which peer out the sea smell. Maybe your favorite color is blue or red and your flower is lily or rose and you would like to match these with a specific theme, close to your taste. We promise you that our florist will make this happen, create the "floral result" of your desire. And, if you choose us as your wedding planners and get the wedding package from us, a beautiful bridal bouquet will be given to you for free from us.